MTV recently announced there list of this year hottest mc's in hip-hop. The list always has controversy like last year how Eminem was not in it etc. So this is my review of the list and opinions of it. As MTV says its the hottest artists out there but what does that mean? Who got the most success in record sales or who music playing the most on the radio? Using the term hottest can mean many things. You also got to remember the list is over a whole year not the last couple of months.
10.

Ludacris released his album album in march which was called "Battle Of The Sexes" it has mad mixed reviews by many people. Which I mean by its had success selling over 100k in the first week, but it was the single "My Chick Bad" featuring Nicki Minaj which had the biggest success going platinum. Some argue it would not have been if Nicki was not on it? This was Luda first time on the list which after making music for the last 10 years he deserves it.
9.

To me B.o.B is to slow in this year list, he had so much success for being his first mainstream year in hip-hop. He put released his debut album "B.o.B Presents: The Adventures of Bobby Ray" which went number one and the album had such a fixture of songs on it. He had number one hits of it, nominated for number of awards and collaborating with major artists Eminem, Lupe Fisaco, T.I. Bobby Ray also open for Em and Jay-Z shows for Home and Home Tour. I still say he should be higher.
8.

I dont know how

Waka Flocka Flame got eight on the list. People say he had a great year but his singles aint got number one. You can argue his music is hot in the clubs but I dont think that should be much to do with the list. He has released his debut album which got in the top ten album chart list. But having Puff and Ross jumping on remixes you know he got to be doing something right. Still stand by what I said though.
7.

With Lil Wayne being prison for most of this year but still being on the list is a good achievement for him. But he planned all this by making so much music before he went to Rikers and doing about 20 music videos as well. This year seem Weezy has not been missing as we are always getting new music from him. His album last Rebirth was not his best but he came back with "I Am Not a Human Being" which was better but still not his best I think. Wayne has been on some great songs this year Forever, No Love, My Generation

etc.
6.

The barbie Nicki Minaj who had a great year for not putting out her album yet. Massive Attack and Your Love a
ll been big hits. She jumped on remixes of songs this year and featured in many as well. Most noticeable "Monster" having demolished her part. She going to get much bigger with the years to come, I think sixth is a good place for her on the list. Make sure you get
Pink Friday.
5.
Ricky Ross album "Teflon Don" is one of the albums of the year so far, having his best year yet. Making his best music and working with Kanye. He definitely should be on the list and I expect him to keep making this kind of music. With Ross not beefing no more surely helped him I reckon. His song "Free Mason" which feature Jigga is one of my favorite records of this year. Recently 50 Cent said in an interview Notorious Ross which made me laugh.
4.

With Drake being in last year list with out releasing an album many said he going to be very high on this year list. Which forth is high really when you think about, he might not have lived up to the full expectations of him after "So Far Gone" his mixtape from last year. He made "Thank Me Later" which was a solid album and he even said it was not as bad as he wanted it to. His collaboration with Hov
"Light Up" was incredible. Maybe Drizzy should of been in the top three?
3.

For Kanye to get third on the list when he only been back since May after the whole Taylor Swift thing which made him dispersed for a while.
I wanted Ye at the grammys but it did not happen so I was wondering when he was going to return. It happen with his single Power for his next album "My Beautiful Dark Twisted Fantasy" which showed everyone he was back and making the dope music. Putting out a new song every Friday for Good Friday showed his new material his some of his best. Working with many new artists as well and producing as well. You can argue Kanye only been back for a few months and should make him lower on the list but his music is so dope.
2.

Jay-Z nearly got first on the list but MTV judge panel change there mind on it, which you can understand why. Having the success of Blueprint 3 last year it would continue in to this year with touring more than anything his BP3 tour all round America brought in much money and success for him.
In the last few months he has jumped on Kanye tracks which he has been doing what he does on them. Working with artists like Rick Ross and Drake performing songs on both of there album, he outshined both of them on the tracks. Then this shows in Detroit and New York with Eminem, were the biggest hip-hop show of all time. So for not putting out an album and getting second is quite good.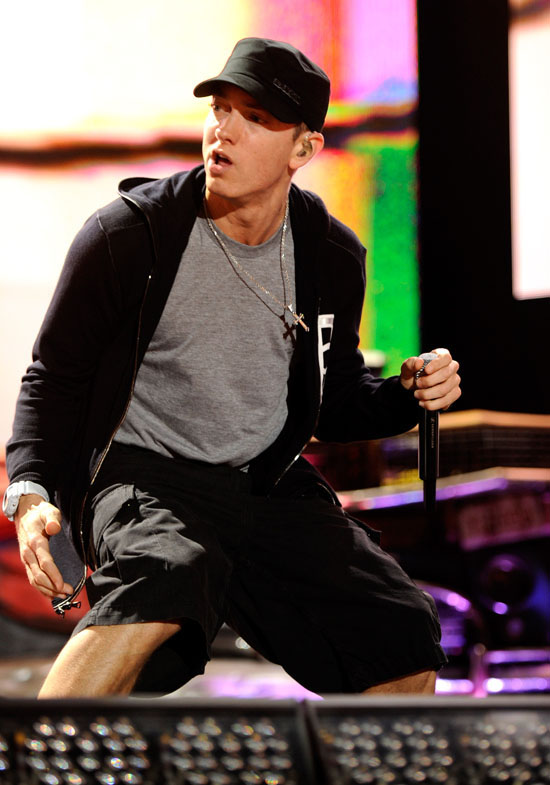 1.

Eminem had to be number one, no one is on his current level at the moment he cant be touch.
Having not made last year list and now he number one on this year shows what he can do. His album Recovery was number one for many weeks, broke records, sold more than any other album this year so far. Number one singles as well just shows Eminem is back to his best. If you compare Relapse to Recovery you can see the different and how Em has change the approach in his music this year. Working with new producers for Recovery was a great idea I think. With Eminem back we can expect more music to come soon. Also with Eminem being on Forever, Airplanes 2, Drop The World as well. Then his shows with Jay-Z for Home and Home Tour in NYC and Detroit just showed the energy he got back for his music.
With this year list being very interesting with unexpected choices in being in there. I thought some artist like Bun B, Fab, Lloyd Banks maybe would of been in the list but it shows you never know you could be in it. Everyone got there own opinions about the list and there own list probably. Who will be on next year list?