10.
Big L
Why he should be on the list: He was a great artist. But he died and only made two albums but they are dope. He done a freestyle with Jay- Z in like 1995 and its the best freestyle I have ever heard. I wish Big L was around for longer. People who know about hiphop will tell you that Big L was great. He is missed. He was very talented I thought and could anything in hiphop. I love his albums and have listen to them so much. His flow was genui I thought. But he is missed alot.

9.
Big Daddy Kane
Why he should be on the list: His flow is one of the main reason, he is one of the best rappers of alltime for flow. He been around ages and he was a massive hit in the 1980s and 90s. He is on of the best to me and is a classic act. Not many are better. I got a couple of his albums on my Ipod and love them. Big daddy kane was one of the best there ever was to me. Some of his tracks are out of this world. He could do anything. Every hiphop fan loves him. He had to be on the list. One from the golden age in hiphop.

Why he should be on the list: One of the first solo artists to do well in hiphop. He doen great things for Def Jam and made 13 great albums. His style was great and he could anything on the mic. He been around for so long so I had to put him on the list. I think he is such a rapper and his style is like no other. He was a class act and Ithink he will be in the rock hall of fame soon. Anyone agree? He had to be on my list. I love his music. His tracks are genuis and showed what he could do. He is my favourite of all time and love is movement in hiphop as a whole.

Why he should be on the list: What can I say he was a great rapper. His music was a different class to others. But I put him low on the list as others got more reason for the choice. I think Biggie was a great artists but I dont know why he low on my list. His flow was a different class other anyone could say that. He showed every one on "Ready To Die" what his music was like. I think "Juicy" was his best track. My list is down to my favourites though. I liked biggie smalls for his music not him. Its hard to say. He was not alive long enough I think. If he made some more albums he would be much higher. But he only made a couple so I not put him higher I think. But still a rapper.
6.
Tupac
Why he should be on the list: Its tupac everyone, he was a great rapper and his music was out of this world. I know its sad that he died. I heard so much of his music and love all of his albums. He will never be fergotten. But some of you might say I put him to low but its my list. I still think 2pac was one of the best. He put his past in to his tracks and anyone would say how good he was. He could do anything I think and lyrically he is one the best as well. When "Ghetto Gospel" the remix came out like 4 years ago. It got me more in to hiphop ad im glad I did. I think if he was still here he would be at the top. "Hail Mary" is a classic to me.
5.
Rakim
Why he should be on the list: Rakim is a god to me, when him and Eric B drop "Paid in full" it got the whole of hiphop talking about him. When I heard it I thought it on the best albums I ever heard. Rakim flow is great and he can do anything with words. He can kill anything. Wehn his new albums drops I cant wait to see what it like. I have heard a coupl the promo 30 seconds off tracks and they sound so good. I had to put Rakim in the list he is a hiphop legend.

Why he should be on the list: Well its Krs One for a start, no one does it like he does. He is the "Teacher" in hiphip. He is so smart and he is a genuis I think. The words he does in his tracks are classic. He made so many albums I lost count. You cant compare no one to him. He got his own style which i great and he looks out for hiphop more than anyway. He speaks his own words and his tracks mean something. When Krs One drops an album it stands out so much. He made lots of albums and every single one is dope. I got so many tracks from him as a solo artists and in BDP. A true great I think.
3
.Nas
Why he should make the list: Nas could been number one or two. But I put him at third on the list. He is one of my favourite rappers of all time for sure. He got the best hiphop album of alltime "illmatic" its the greatest. I could listen to Nas all day. Every album he drops is dope I think. He is one of the only rappers to have a fued with Jay-Z. Lyricall Nas is best it could be say I think. When he gets on the mic know one can stop him. When "Hiphop is dead" drop you were able to tell how good he really was. He should there hiphip was going and why it was. Hiphop needed that album and no one else could do it like he did. Nas is the man to me. Such a great artists as well.
2.
Eminem
Why he should make the list: Eminem is great at what he does. The words he does are so powerful I think. He made 6 albums they are all good albums. But "The Slim Shady LP" is one of his best and if you listen to it you would agree. When he gets going his flow is one of the best around. He is so skillful as well. When he drop his album this year I thought Eminem is back. Then when I heard his part in "Forever", I knew he is back to his best. Eminem can kill anything to me. I would love to see Eminem I think it would be great. An other thing I like about Eminem he does not try to be someone else like other rappers do. He got his own style and sticks to it.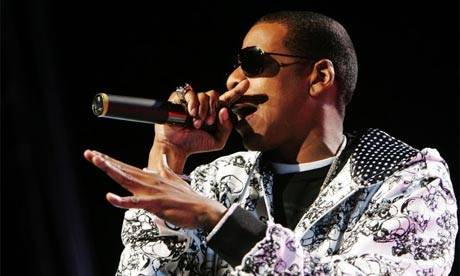 1.
Jay-Z
Why he should make the list: Well to me he is the greatest, he shows it year after year. He has made 11 albums which have always been number 1. Every track he does he kills it and I got all his albums and think they are all dope. But for me its when I first brought "Blueprint", yes I was like 8 years old and it was first album I ever brought. So it affected me to love hiphop. Also Reasonable Doubt was out of this world. Jay Z has be the best rapper of all time and most succesful as well. He is a genuis to me and his flow is a different class to others. Jay Z has to be number one on my list always.
Thats my top 10 list, Check out math and jimmy is coming soon. What ya think of it all? Compare mine to math and tell us what you think?
Peace